FDA Open Public Hearing for Eversense Implantable CGM March 29 and 30, 2018
On Thursday, March 29, and on Friday, March 30, the Food and Drug Administration (FDA) will listen to public input as part of its review of Senseonic's implantable Eversense CGM System.
The advisory committee meeting will take place at the Hilton Washington DC North/Gaithersburg in Salons A, B, C, and D (620 Perry Parkway, Gaithersburg, MD, 20877).
Between about 1 and 2 pm, anyone can present their views before the committee as part of an Open Public Hearing. If you would like your opinion on the Eversense heard, you can make a written submission to the committee by March 22, or you can submit a request to make an oral presentation by March 14. To make an oral presentation, you must submit the following information to the meeting's Designated Federal Officer:
A brief statement of the nature of the evidence or arguments that you will present
Names and addresses of those who will present
Approximate time needed to make the presentation
The FDA should contact you about your request to speak by March 15. Anyone with views on the product's strengths and weaknesses – or who wants to encourage more options for CGM –should consider making a statement at the meeting. diaTribe Learn Senior Editor Adam Brown will be in attendance and speaking!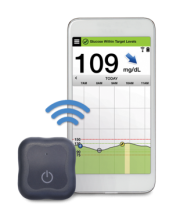 The Eversense includes an implantable sensor (smaller than a pill) that can be worn for 90 days, while other CGM sensors available in the US require new insertion every 7-14 days. The sensor is implanted in the upper arm during a 5-10 minute procedure in a typical doctor's office and must be calibrated twice per day. A rechargeable transmitter device is worn on the skin directly above the implanted sensor and can be taken on and off at any time. A mobile app allows Eversense users to read their blood sugar data, and the transmitter provides an on-body vibration to indicate a high or low when the user's smartphone is out of range. Regulatory authorities in Europe recently approved the Eversense XL, which can be worn for up to 180 days. 
If you are interested in attending the meeting, you can find more information about disability accommodations, visitor parking, and transportation here.