Mapping America's Health – NHANES Data Continues to Illuminate
People in rural areas experience significantly greater obesity rates than those in urban areas, according to a new analysis of the 2001-2016 National Health and Nutrition Examination Survey.
In cities with a population greater than one million, 38 percent of women have obesity, compared with 47 percent of women in rural areas. That same discrepancy holds true for men as well — 32 percent of men in cities have obesity, versus 39 percent in rural areas.
Louisiana provides a striking example of how geography drives these health disparities — nine of the 10 counties with the state's best health outcomes were urban, while nine of the 10 counties with the worst outcomes were rural. 
Unfortunately, the mechanisms creating such geographic disparities are not fully understood. "The basic differences in demographics between rural and urban regions do not explain these differences in obesity rates," study author Dr. Cynthia Ogden told The New York Times. "We need to look into this more to understand it better."
Geographic factors could perhaps include differences in availability of healthcare services, especially the distances people must travel for care. But the divide is not just between rural and urban. Consider the urban environment of New Orleans: Figures from the Robert Wood Johnson Foundation show that life expectancy varies by as much as 25 years between neighboring zip codes. The data illustrate how our health is intertwined with our environment, even if the reasons remain unclear.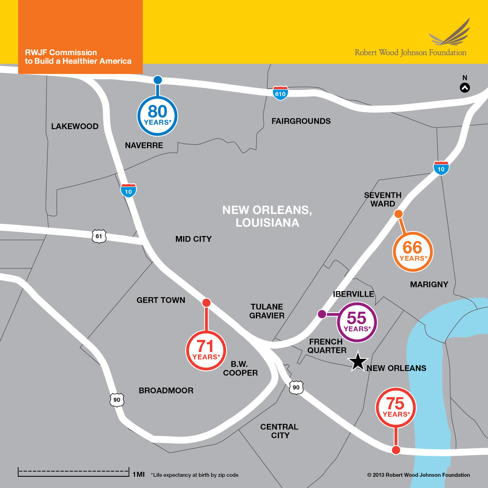 Until we understand those factors better, we can use the tools at our disposal – in both the city and the country – to learn more about and better manage our health. One of our favorite tools is the AADE Diabetes Educator search tool, which finds certified diabetes educators near you. We also hope that our article on what to do after prediabetes diagnosis will be an invaluable resource. Let us know about favorite ways to stay healthy in your area on social media!