Top Story
2021 Diabetes Atlas Numbers
The International Diabetes Federation (IDF) released their 10th edition of the IDF Diabetes Atlas, an annual report of global estimates of diabetes prevalence, mortality, and related health expenditures in 2021. Read some of the highlights here.
Although most people with diabetes, as well as private and public payers (including governments), are spending more money than ever on preventing and treating diabetes, rates of diabetes prevalence and mortality continue to grow worldwide.
The IDF report highlights the socioeconomic disparities entrenched in diabetes. Low-income countries are more likely to have higher rates of diabetes as well as higher rates of undiagnosed diabetes than middle- and high-income countries (country income classifications here). The report also describes the impact of the COVID-19 pandemic on the severity of the diabetes epidemic.
"I wish I could report that the past two decades have witnessed decisive action to tackle diabetes and that the rising tide of diabetes has finally turned," said Andrew Boulton, IDF president, outlining the dire findings of the newly updated Diabetes Atlas. "Rather, I must repeat the message that diabetes is a pandemic of unprecedented magnitude spiraling out of control."
These are some key findings from the report:
Prevalence
Globally, more than 1 in 10 adults aged 20-79 years (over half a billion people) now live with diabetes (both type 1 and type 2). This number has more than tripled since 2000 from an estimated 151 million to 537 million today, including more than 1.2 million children and adolescents who have type 1 diabetes.
The countries with the largest number of adults with diabetes aged 20-79 years in 2021 are China (140.9 million), India (74.2 million), and Pakistan (33 million).

3 in 4 adults with diabetes live in low- and middle-income countries.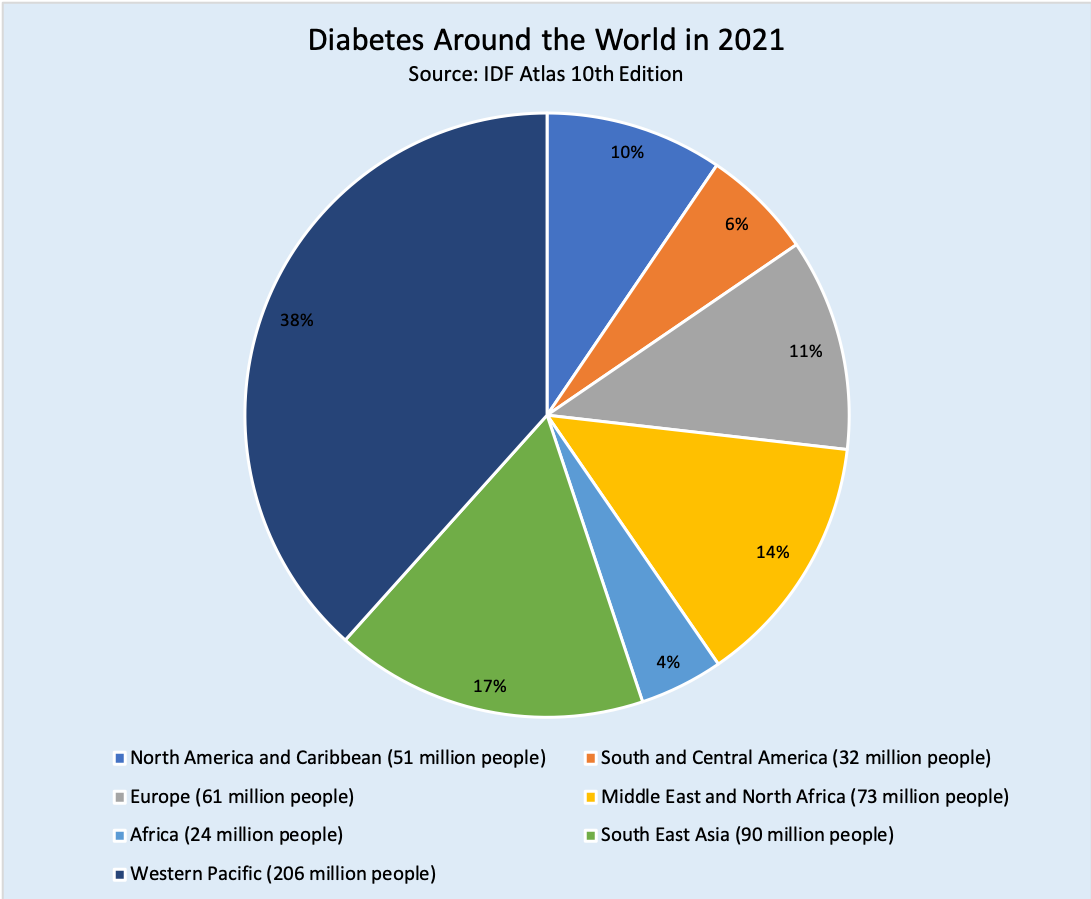 Type 2 diabetes prevalence has increased, especially among non-Caucasian populations. This is mostly due to the rising burden of childhood obesity, changes in diet and physical activity, maternal obesity and diabetes, and other unknown factors.
About 240 million people are living with undiagnosed diabetes worldwide–almost 1 in 2 adults with diabetes are unaware they have the condition. A large majority of these cases are in low and middle-income countries, with low-income countries having the highest proportion: 50.5% of people with diabetes in low-income countries have not been diagnosed. Among people with diabetes in Indonesia, 14.3 million people are undiagnosed, which is 73.7% of their total prevalence. In comparison, about 4 million people in the US have undiagnosed diabetes (12.5% of cases).
By 2045, the IDF estimates that 783 million people will have diabetes worldwide, a 46% increase from 2021.
COVID-19
During the first wave of COVID-19, people with diabetes had a 3.6-fold higher likelihood of being hospitalized due to infection, compared to those without diabetes. COVID-19 infections and deaths per 100,000 are higher in countries that have a high prevalence of diabetes
Health Expenditure
The global health expenditure of diabetes was USD $966 billion – a 316% increase over the last 15 years.
In 2021, countries with the highest yearly expenditure per person include:

Switzerland ($12,828)

USA ($11,779)

Norway ($11,166).

The North American and Caribbean region accounts for 43% of global diabetes-related health expenditure (USD 415 billion)

The total diabetes-related health expenditure is expected to reach 1 trillion USD by 2030
Although these numbers portray a grim look at the current and future state of diabetes, none of the predictions are inevitable. A greater focus on preventing and treating diabetes can improve the outlook.
diaTribe Change works to advocate for people with diabetes because we believe we can change the course of diabetes. We will continue to push for increased access to diabetes care like insulin, continuous glucose monitors, and comprehensive insurance coverage so that we can reduce the burden of diabetes and improve the lives of people with diabetes worldwide.