Midterm Election Results: What People with Diabetes Need to Know
Healthcare was front and center leading up to the midterm elections, which saw the highest voter turnout in more than a century. Read on to learn more about the issues that we think will have a major impact on diabetes in 2019 and beyond.
In This Article
Medicaid Expansion – Idaho, Kansas, Maine, Montana, Nebraska, Utah, and Wisconsin
Expanding the number of individuals eligible for insurance coverage through Medicaid gives more people access to diabetes treatment. Medicaid expansion also helps identify people with undiagnosed diabetes, meaning more people can receive critical treatment earlier –  states that expanded Medicaid in 2014 saw a 23% increase in diabetes diagnoses, compared with a basically unchanged 0.4% increase in states that didn't. With an estimated 7.2 million people with undiagnosed diabetes in the United States, increasing the number of Americans with health insurance will be a major part of preventing complications down the road.
Medicaid expansion was on the ballot in Idaho, Nebraska, and Utah, and the people voted in favor of expansion in all three. Combined, these states are home to about 300,000 low-income, uninsured adults who will now become eligible for the Medicaid program.
In Montana, however, voters rejected a proposition to raise taxes on tobacco and e-cigarettes that would have funded the continuation of Medicaid expansion beyond its current end date of June 30, 2019. The future of the Medicaid expansion is now in the hands of the state legislature. Its decision will affect coverage for about 100,000 Montanans.
Finally, new governors in Maine, Kansas, and Wisconsin likely mean that Medicaid will be expanded – or, in Wisconsin's case, further expanded – in these states.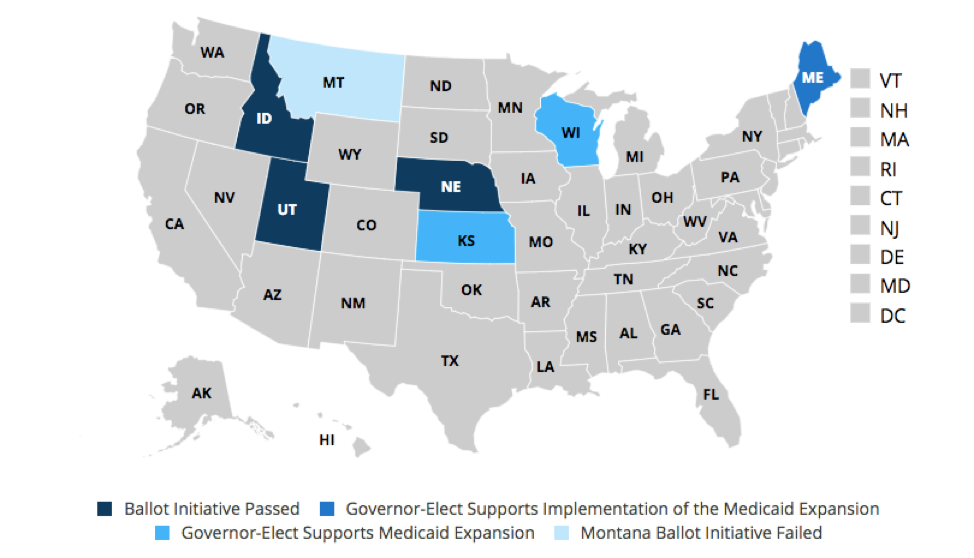 Medicaid Work Requirements – Michigan and Wisconsin
New governors in Michigan and Wisconsin mean that efforts to add work requirements to Medicaid could be halted in those states. Work requirements typically compel individuals enrolled in Medicaid to complete 80 of hours each month of work, job training, education, or community engagement like volunteering. Both proposals exempted certain groups like children, pregnant women, caretakers, and those who are deemed medically frail. Wisconsin's work requirements would also only apply to individuals who haven't worked in the past four years.
California voters rejected Proposition 8, which would have capped revenues for dialysis clinics. Though the specifics of the ballot initiative and the debate around it are complicated, the key takeaway is that if you receive dialysis in California, your care will not change.
About 80,000 Californians rely on dialysis to treat kidney failure, including many with diabetes. Every 10 minutes, someone with diabetes is diagnosed with kidney failure, which can only be treated with dialysis or a kidney transplant. 
Groups supporting and opposing the ballot initiative both claimed a patient-centric approach. Surely confusing voters, the main group in favor was called Californians for Kidney Dialysis Patient Protection, while the main group against was called Patients and Caregivers to Protect Dialysis Patients.
Proponents of Proposition 8 argued that it would be a way to decrease dialysis centers' high profit margins while addressing staffing shortages. The measure would have also prohibited clinics from refusing a patient based on their insurance.
Opponents claimed that the capping of revenue would lead to the closure of dialysis clinics, affecting patients' access to care. Earlier this year, Governor Jerry Brown vetoed a dialysis center reimbursement cap that would have also regulated staffing ratios to improve patient care. 
According to the nonpartisan Legislative Analyst's Office, it is difficult to know how the dialysis centers would have responded to this particular ballot's requirements and how that would have affected patients downstream.
Sugar-Sweetened Beverage Taxes – Oregon and Washington
In both Washington and Oregon, ballots included measures to ban cities from implementing new soda and food taxes. The measure passed in Washington with 55 percent voting for the ban on such taxes. However, Seattle's preexisting soda tax will remain, and is expected to generate about $20.6 million in revenue in 2018. In Oregon, the measure failed with 59 percent voting against.
The Coca-Cola Company, PepsiCo, Inc., Keurig-Dr. Pepper, and Red Bull North America contributed 99.9% of the $20.2 million spent on the "Yes! To Affordable Groceries Committee," which championed the proposed bans on new soda and food taxes in both states.
Earlier this summer, California, home to the first ever soda levy, enacted a controversial statewide ban on soda taxes until 2031. There too, the beverage industry backed the measure to speed the passing of the law.
Neither decision will have an immediate effect on the prices of sugary drinks. In Washington, cities won't be able to add new taxes for the foreseeable future, although the state legislature will still be able to. In Oregon, cities will still have the power to pass taxes on sugar-sweetened beverage in the future, if they decide to.
Sugar-sweetened beverages contribute the largest amount of sugar to the American diet, accounting for 6.5% of adults' total daily calories. Taxes are one way to discourage consumption and make a dent in the obesity epidemic. We are heartened by Oregon voters' acknowledgment that drinking less soda can help keep people healthy, and remain hopeful that other states will follow suit.