As People Focus on Nutrition and Transparency, Big Food Companies Are Losing Ground
As we demand more nutritious and sustainable food, big food companies must make adjustments to their products, practices, and marketing.
In This Article
Since 2009, smaller food startups have taken $18 billion worth of sales from the top 25 U.S. food and beverage companies. Simultaneously, the Organic Trade Association reported that organic food sales have more than doubled in the last decade, including breaking through the $50 billion mark in 2018. Last week at the Tufts Food and Nutrition Innovation Council, we found out what changes in the food realm have been driving these massive shifts.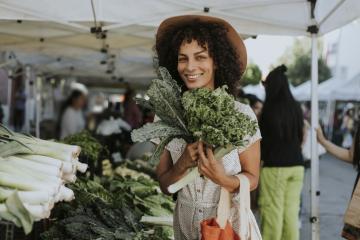 A demand for wholesome food, sustainable practices, and industry transparency
Over the past decade, large food companies and legacy brands have gained a reputation of being less healthy and more ethically suspect. With food consumption becoming increasingly removed from food production and nutrition labels becoming progressively longer with unpronounceable ingredients, consumer demands have changed. A 2015 study by market research firm Mintel found that 43 percent of millennials distrust Big Food companies, and mainstream consciousness now places greater emphasis on simplicity and transparency surrounding what ingredients go into food products and where they come from. Moreover, many consumers – particularly Gen Z and millennials – now see their purchases as a form of activism, going as far as being "willing to spend more on products that meet their values," says Michel Nischan, Founder and CEO of Wholesome Wave.
These trends are shaking up the food industry. According to Christina Ferzli, Director of Global Corporate Affairs at OceanSpray, "Big companies have to innovate or die." Regardless of how established a brand is, large corporations must scramble to keep up with the demand for sustainable, wholesome products. For example, OceanSpray, a juice and snack company, has pledged to have 100% of its cranberries be sustainably grown in 2020. Coca-Cola also promised to reduce calories in their products, and Walmart – which controls 22 percent of the U.S. grocery market – made major efforts to reduce sodium, added sugars, and trans-fat in its products. "Doing good is actually profitable for business, so why not lean in on that?" says Ferzli, who believes in action-oriented missions as a way for companies to regain trust.
Moreover, corporations should care about nutrition from an employer standpoint. It is well-known that poor diet has costly healthcare implications, including type 2 diabetes and obesity, in addition to being linked to cardiovascular disease and certain cancers. Bill Layden, the former Founder of FoodMinds, points out that both companies and investors should be concerned about the nutritious content of their products to keep employees healthy.  For example, the American Diabetes Association found that the total cost of diabetes in 2017 included $90 billion due to reduced productivity alone. To ensure a robust workforce, food companies must consider diet quality.
Where Big Food companies are falling behind, hundreds of newer, health-focused companies are growing to take their place. These startups are better equipped to keep pace with the changing tides of the market, and their ability to leverage the health and wellness trend has made them popular among customers. In a consumer climate where brand establishment no longer holds the same clout as before, it pays to be consumer-centric and health-savvy.
Mars Food, the company that makes Snickers and Twix candy bars, recently announced that it would begin placing advisory limits on its products by labeling them as "everyday" or "occasional". In efforts to recultivate a reputation of honesty and interest in consumer well-being, the company hopes to win back trust from consumers and regain some ground within the market.
This new level of transparency is not the first of its kind. Many established companies have tried modifying their products and marketing campaigns to appeal to consumer appetite for healthy food. However, many of these same companies have also been accused of "greenwashing" their products or claiming them to be healthier than they really are. For example, the U.S. Department of Agriculture allows products to be labeled "made with organic ingredients" when the item actually only contains 70 percent organic ingredients, and many consumer products certified as "natural" still contain some artificial ingredients. Many consumers see through these "sham organics," resulting in largely unsuccessful campaigns by Big Food corporations to recapture customers. Furthermore, much of the nutrition research to support claims of healthy products has been influenced by industry sponsorship, thus calling the credibility of both the research and the food industry into question.
Food labeling discrepancies and hidden corporate agendas are often argued as cause to establish a new National Institute of Nutrition at the National Institutes of Health (NIH). "Given the importance of nutrition, there has to be greater investment in the science and research," says Lucy Sullivan, Executive Director of Feed the Truth. In order to regain trust from the public, it is necessary for corporations to turn over the science to unaffiliated investigators. Widespread, unbiased information will help people distinguish between genuine versus fabricated health claims and thus rebuild consumer confidence in the food industry. Moreover, being properly informed about food products will reduce the incidence and burden of chronic conditions such as diabetes and obesity. "When you empower consumers with clear information and strip away the marketing, people can certainly make better choices," Sullivan asserts. People want to make healthier decisions, and Big Food must make adjustments to their products, practices, and marketing if they hope to win back consumers.